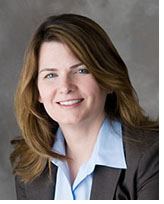 Brenda P. Wenning of Newton, Mass. began Wenning Investments in May 2008 with 19 years of investment management and security analysis experience.
Her business is based on proprietary investment strategies that help individual investors manage risk, while achieving their financial goals. She has in-depth experience working with accredited investors, small business owners, baby boomers and women.
Before founding Wenning Investments, she co-founded Capital Advisors, LLC and co-managed the firm's investment strategies. Before that, she served as Vice President and Investment Officer for First Financial Trust, N.A. in Newton, where she managed portfolios for high net worth families, foundations and corporations.
Ms. Wenning has also served as a portfolio manager and analyst with Gannett, Welsh & Kotler, Inc. in Boston and as a registered associate with Kidder Peabody & Company.
She is a member of the CFA Institute, the Boston Security Analysts Society (BSAS), National Association of Active Investment Managers, Common Wealth Institute of Boston and National Association of Women Business Owners (NAWBO). She earned her bachelor's degree in accounting with honors from Northeastern University.
Investment Philosophy
The Road To Financial Success

You can take many roads to accumulate wealth and achieve financial security. But before you set off, it is crucial to understand the road conditions and to know whether you have what it takes to complete the journey.

Wenning Investments recognizes that successful lifelong investing requires an investment strategy that smoothes the road by anticipating and preparing for bear markets.

Investing in the stock market can be a bumpy road. While stocks have historically outperformed most investment categories over the long term, their growth has been repeatedly interrupted by bear market declines. Each bear market has erased 20% or more from major market indices. From 2000 to 2002, the Nasdaq Composite Index declined more than 75%. Losses like these can create long detours in your retirement plans.

That's why risk management is a key component to all of our investment strategies. We mitigate risk using proven methods such as portfolio allocations, price targets, stops, alerts and hedging. In other words, we actively position your portfolio to maximize its potential, while seeking to minimize the volatility of returns.

Our goal is to dynamically position our clients' assets in investments with the potential for superior returns, given market conditions, and to shift quickly to defensive positions when the market's trend turns downward. By doing so, we strive to match or exceed the performance of each program's benchmark index, while significantly reducing the potential for losses.

There are no shortcuts on the road to financial success, but we strive to make the journey as smooth as possible.